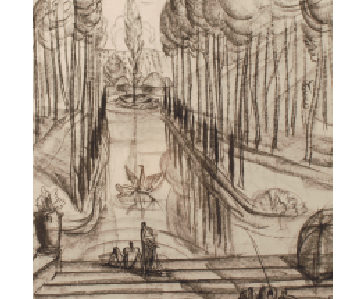 "Le monde selon André Maire" ('The world according to André Maire') exhibition held in Saint-Briac in the summer of 2016 reminded us of what a marvellous artist André Maire was. An exceptional draughtsman, he was trained from the age of sixteen by Émile Bernard–a major figure in modern painting which would later become his father-in-law. Maire was also a travelling painter whose exotic gouaches, spirited and colourful, were shown in momentous exhibitions and granted him prestigious commissions. He notably exhibited his works in both the Charpentier and Georges Petit galleries, two of the best addresses in Paris. Moreover, Maire also hung his work at Isy Brachot's in Brussels. Recognizable at first glance, he was undoubtedly a master and was celebrated as such by critics.
Nevertheless, it is hard to be less mundane than this swell pal who discovered that the Earth is broader and more beautiful than he foresaw in his wildest dreams when he joined the French colonial infantry for his national service in Saigon (now Ho Chi Minh City) at twenty years old. "He understood spontaneously that, far from his Western influences, far from Titian and Matisse, there are cultures that are even more fabulous as they remain largely unknown in Europe", Christophe Penot explains in the documentary he made about the artist. With his remarkable stroke, André Maire soon developed what now gives the core value of his work; that is, a vision and a mind-set, those of an anthropologist and a poet.
The Guimet Museum of Paris and the City of Dinan (Île-et-Vilaine) paid tribute to André Maire, tireless observer of the landscapes of Laos, Vietnam and Cambodia, through several exhibitions. For art collectors, the Cristel Editeur d'Art Centre has gathered several drawings and wash drawings witnessing the many journeys of the painter. Among these treasures, one of the rare works Maire painted during his brief stay in Bruges, in 1929.