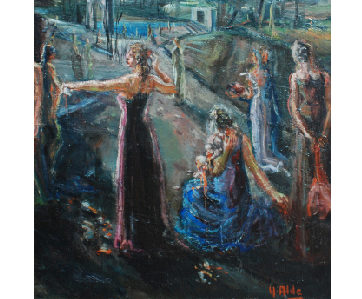 Yvette Alde was one of the great female figures of the School of Paris, just as Yvonne Mottet, Marie Laurencin, Léonor Fini and Suzanne Duchamp. She first gained recognition for her portraits (we owe her an interesting drawing of Soutine's face which is exposed at the Museum of Modern Art of Paris),.nevertheless, she mostly painted landscapes, nudes, gorgeous bouquets and still lives–.her favourite themes, and she always painted them in her particular and easily identifiable style, based on a generous use of volumes and paste. According to Lydia Harambourg, ."Thick substance acquires the brightness of gems when one moulds it as if one was trowelling it."
It makes little doubt that Yvette Alde, who passed away too early at age 56, madly loved painting. Her passion dates back to when she was learning under the supervision of .Charles Picart Le Doux and André Lhôte–two remarkable masters. Alongside the former, she could repeat Maurice Denis's famous words: "One must remember that, before being a warhorse, a naked woman or some anecdote, a painting is essentially a plane surface covered with colours put together in a certain order ". Alongside the latter, she learned the mastery of close-ups and tension. Hence her immediately recognizable painting style, .powerful yet unquestionably poetic, with which she left her mark on art history.
During her career, Yvette Alde went to every yearly Parisian Salon.–even to the Salon d'Automne as early as 1932, at age 21. She tackled religious matters, surrealism and Flemish classicism,.thereby ruling in favour of Jean Bouret's comments: "Yvette Alde is made for lyricism; she sings her love for lost beauty in higher notes". Twenty-five museums and public collections, in France and around the world, now display her work.