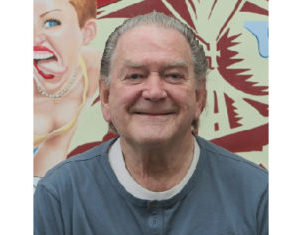 Erró, whose real name is Guðmundur Guðmundsson –a Viking's name, without a doubt–was born in Iceland on 19 July 1932, spent his childhood as a fisherman and a farmer in an atypical landscape made of volcanos and bare mountains. He was already a prodigy at that time: he was always found with a pencil in his hand, tirelessly drawing. At only sixteen years old, the future Erró was explaining that he wanted to become an artist in the
Morgunblaðið
columns! A strong, irrepressible vocation, which would allow him to obtain, in June 1951, at the School of Fine Arts in Reykjavik, his diploma as a drawing teacher
« with the best mark ever received inIceland »
! He was launched.
In a way, the rest is history. hat of an extraordinary creator, once introduced as "
the most prolific artist since Picasso
" by Guy Scarpetta. Erró, who is generally affiliated to the Narrative figuration movement, indeed multiplied surprising "
world representations
", often in the shape of colourful and spectacular frescos; in these, he casually mixed universes that no one before him would have dared bringing together. For instance, he represented
Walt Disney
, au bras de ces tyrans dont le XX
th
century brought. One can also find manga heroes running through Renaissance memories, or even a distraught Christ preaching among a ludicrous and noisy crowd. Erró's work is a confrontation of genres and times;
to quote anthropologist Marc Augé, he is a
"mythical painter"
, a tireless demiurge that continuously illustrates the myths of our time.
Erró has been collaborating with Cristel Editeur d'Art regularly since 2012. In 2015, we also were honored to welcome and exhibit his works in our Art Center in Saint-Malo.