Hervé Bédouin (born in 1973)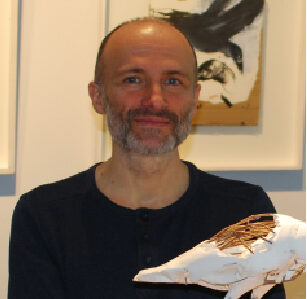 Hervé Bedouin's biography is a beautiful and straightforward story. A graduate from the School of Fine Arts Arts of Rennes and the School of Design of Blois, he long sculpted for his own pleasure, alongside his career at the School of Design of Nantes. He exhibited his work –invariably composed of little egrets– in two exhibitions, in 2007 and 2009. However, his very peculiar, living and stirring little egrets quickly caught the public's attention. Therefore, Hervé Bédouin decided, in 2019, to fully commit himself to what he does best: sculpting.
This brief preface could well be the storyline of a novel. Nonetheless, one must not lose sight of the fundamental that are the artist's incredible talent and the outstanding singularity of his work. As the reference in animal sculpture and its best historian, Damien Colcombet said"I may think about it, I cannot find an equivalent craft to Bédouin's in the animal Gotha". Hervé Bédouin has invented no less than a whole world, which is now known as the "bédouinerie". It is a world inhabited by wading birds, mostly little egrets which Bédouin carves by using iron, wood and plaster. When sculpting, he plays a patient game of additions, agglomerations, corrections, sanding and smoothing until the silhouettes he carves reach a startling truth; and their wings, made of skinny hazel tree branches, start to flit about the sweetest breeze.
Hervé Bédouin is a magician, just like Anne Limbour –another Breton artist promoted by the Cristel Editeur d'Art Center. His mysterious gift lies in believing in the purpose and value of the tiniest twig he picks up and transforms. It is evidently an aesthetic belief in which light blends with transparency; but it is also an ecological assertion of the contribution of art to the balance of the forces on Earth. As Bédouin is tirelessly persisting in his craft, his majestic birds of wood, iron and plaster are messengers of peace.