Gérard Guyomard (born in 1936)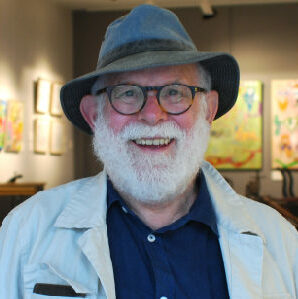 According to dictionaries, Gérard Guyomard is part of the Narrative figuration movement. There could not be a more accurate statement: the French painter, born in 1936, is a formidable self-taught artist and a passionate narrator allergic to common abstractions. In other words, he is both figurative and narrative. However, he claims himself as a free man, if not libertarian: for years, he refused to call himself an artist, preferring the label of craftsman. This echoes with Jean-Luc Chalumeau's portrayal of Jean Le Gac¬–another Narrative figuration artist: "an extraordinary case of an artist who irremediably decided not to make a career". This fully applies to Guyomard!
Incidentally, he already got recognition in his first career as an extremely talented painting restorer. He notably worked on masterpieces from the Louvre or the Prado, but he also restored more modern artworks from Max Ernstand Hans Bellmer. All in all, this illustrates Gérard Guyomard's exceptional, broad and dazzling skill. From the beginning of the sixties, he decided to impose his own representations and his own fantasy on the public. What happened next: numerous exhibitions on both sides of the Atlantic, sales, praising articles and enthusiastic followers.
Just like Valerio Adami, Erró, Peter Klasen, Antonio Seguí and Vladimir Veličković, Gérard Guyomard has exhibited some of his works at the Cristel Editeur d'Art Centre in Saint-Malo. It was the beginning of a confident collaboration; accompanied by creations resembling the artist: spirited pieces of art crafted by this observer of our time. In that regard, it is essential to mention that Gérard Guyomard works in a wide and bright studio, which opens on one of the most crowded streets of Paris. As he often explains, "I paint what I see".
Watch the artist's videos