Jacques Villeglé (1926-2022)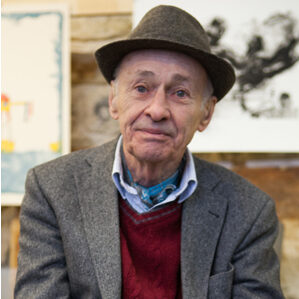 "The only living European artist whose artworks are hung in the expanded MoMa's pop-art room in New York since 2004" can often be read about him – in other words Jacques Villeglé, born on 27 March 1926, is one of the most influential artists of our time. This Breton of old lineage found himself in August 1947 in Saint-Malo, a city devastated by the war. He had just graduated from the architecture section the National Superior School of Fine Arts of Nantes, and he wanted to help rebuild the city. Wandering around town, he stumbled over a piece of steel cable that a bomb had scattered. He picked it up and studied it thoroughly: a piece of steel cable, no, an authentic sculpture forming a couple of dancers. Jacques Villeglé's art was born.
What happened next is common knowledge: Villeglé started roaming the streets to collect fragments of abandoned posters, abandoned to wind and storm, bystanders and happenstance. The lacerated posters are reframed, stretched and mounted to a canvas to become authentic artworks, now exposed and admired in the most prestigious museums of the world. His vision aroused disdain and incomprehension at the beginning of his career but the young artist committed to it even more. His craft was eventually accepted for what it was: a poetic action and a visionary transformation that art history linked to the Nouveau réalisme movement in 1960. Villeglé's destiny was to embody the concept of savoir-voir, rather than savoir-faire. In a nutshell, it is the idea that beauty exists by itself, free and supreme.
What a lesson! The enchanter now sits with Brassaï, Robert Doisneau and Henri Cartier-Bresson in the collective memory. Therefore, the Cristel Editeur d'Art Centre takes great pride to have dedicated its very first exhibition to this unrivalled and inimitable artist in April 2014. He also granted us with his most magnificent bronze sculpture: Saint-Malo, where it all began…
Works of Jacques Villeglé